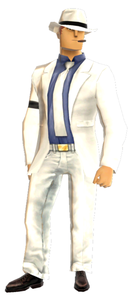 Hi guys,
today you had to act out the dialogue between the customs officer, Jim Ricotti, and his secretary.
Here is the lesson:
Customs officer (C.O.):
"Excuse me sir, may I see your passport please? Your name is Licotti."

Jim Ricotti (J.R.):
"No, Ricotti. Jim Ricotti. R-I-C-O-TT-I."

C.O.: "Where are you from Mister Ricotti?"

J.R: "I'm from New York City."

C.O.: "You are a businessman, aren't you?"

J.R.: "Yes, I am."

C.O.: "What sort of business?"

J.R.: "Italian food : ravioli, spaghetti, tortellini, rigatoni, you know...
This is my secretary, Flo Rando. She's from Chicago."

Flo Rando:
"Hello, I'm Flo Rando from..."

C.O.: "...Chicago, I know... Could you open this bag, please?
[…] What is this?"

J.R.: "This is a box of spaghetti, very good spaghetti."

C.O.: "And what's in it? Spaghetti...? No! Dollars! Thousands of dollars! Businessman, hey...? You are under arrest!"
NB: pour avoir une bonne prononciation, pensez à accentuer les syllables surlignées et à réduire l'accent des syllbles non accentuées.


_________________________
Homework:
- apprendre par coeur les deux rôles à jouer. Plusieurs personnes seront appelées en début d'heure pour rejouer ce dialogue sans votre cahier et sans support au tableau.